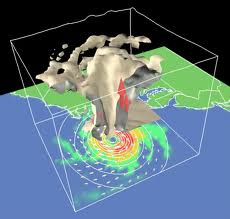 NC State University provides state of the art climate adaptation science, policy and programs its research community.  We enjoy unique access to some of the nation's leading climate change offices and research labs. Below, you can learn more about climate resources at North Carolina State University.
Climate Modeling Laboratory at NC State University (CLIMLAB)  CLIMLAB, directed by Dr. Fredrick Semazzi, develops and provides regional climate model for downscaling global model simulations and predictions with a focus on end-user applications.
Global Change Forum  The Global Change Forum is a virtual meeting place for researchers and resource managers in the conservation and production sectors. The GCF is hosted by North Carolina State University and fosters active collaboration among researchers and managers associated with the DOI Southeast Climate Science Center and the USDA Southeast Regional Climate Hub, in addition to science colleagues around the world.
National Climate Assessment Network (NCA-Net)  The National Climate Assessment summarizes the impacts of climate change on the United States, now and in the future.    NCA-Net is a network of organizations that extend the NCA process and products to a broader audience and builds capacity to support, promote and use the assessment reports.  The Climate Change & Society Master's program is a member of the NCA Network.
Southeast Climate Science Center  The Department of the Interior Southeastern Climate Science Center (SE CSC) is one of eight regional Climate Science Centers. These CSCs provides scientific information, tools and techniques that land, water, wildlife and cultural resource managers and other interested parties can apply to anticipate, monitor and adapt to climate and ecologically-driven responses at regional-to-local scales.
Southeast Region Climate Hub (SERCH)  The US Department of Agriculture established eight regional climate hubs to deliver science-based knowledge and practical information on climate change to farmers, ranchers, and forest land managers. These Hubs help to maintain and strengthen agricultural production, natural resource management, and rural economic development under increasing climate variability.  The Southeast Regional Climate Hub, or SERCH, connects with public, academic, and private sector organizations, researchers, and outreach specialists to deliver technical support and provide tools and strategies for climate change response to help producers cope with challenges associated with drought, heat stress, excessive moisture, longer growing seasons, and changes in pest pressures.
South Atlantic Landscape Conservation Cooperative (LCC)   The South Atlantic Landscape Conservation Cooperative is a partnership of federal, state, nonprofit, and private organizations dedicated to conserving a landscape capable of sustaining the nation's natural and cultural resources for current and future generations.
State Climate Office of North Carolina  The State Climate Office (SCO) is actively involved in research that enhances its capabilities to provide public service. Examples include climate change and variability in North Carolina, El Niño/La Niña effects on North Carolina weather and climate, agricultural and water resource management, air quality and environmental management, disaster mitigation, and land-falling hurricanes in North Carolina. The SCO derives its expertise from the Department of Marine, Earth, and Atmospheric Sciences, and various other departments within the College of Sciences and the College of Agricultural and Life Sciences at NC State University. Professor Peter Robinson of the Department of Geography, UNC-Chapel Hill, acts as coordinator of the North Carolina Climate Program and works closely with the State Climate Office. Undergraduate and graduate students from different universities participate in the research and extension activities at the SCO every year.